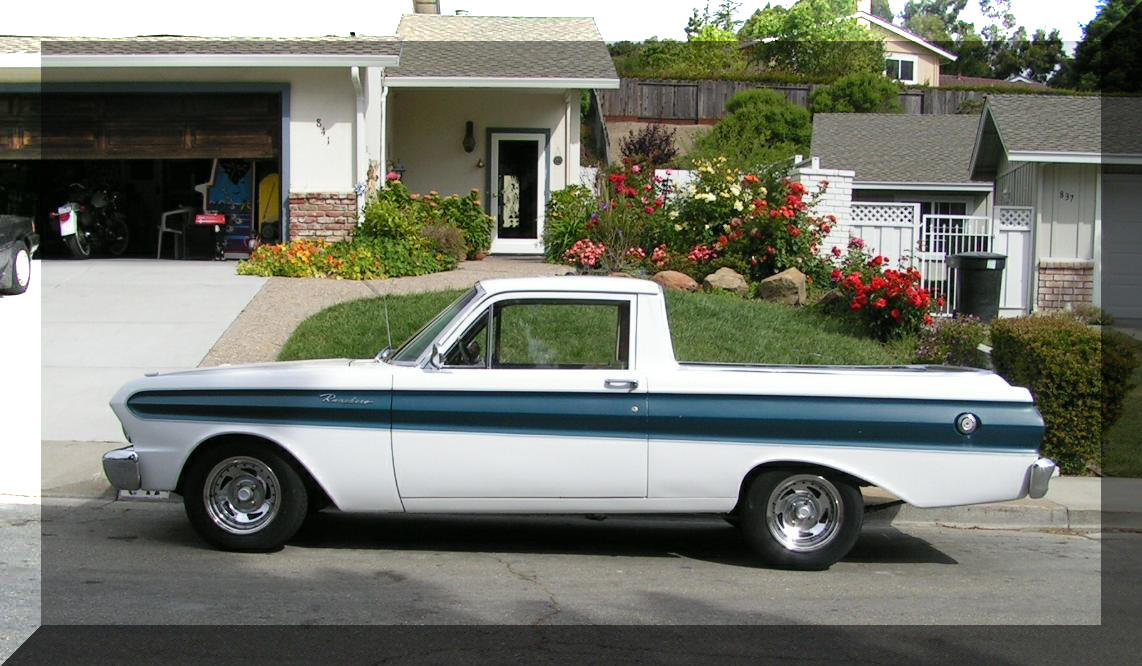 Cliffy's 1964 Ford Falcon Ranchero
Here is my '64 Ranchero just after I picked it up. It has a 200ci inline 6 engine bolted up to a C4 tranny. The engine/tranny combo was transplanted from a '66 Mustang by the previous owner. It originally had a 170ci inline 6 and a 3 speed manual transmission. It has 4 lug suspension. This little truck also has power steering which is apparently rarely found in a 6 cylinder Falcon, especially Rancheros.
Now, I have always loved the look of these little rigs and always wanted to find one to fix up. They are unibody construction and at just around 3,000 lbs very light. I figure dropping in a V8 and upgrading the suspension and braking ought to give me a powerful little hauler yet still get decent mileage. I'm not intending to make a muscle car out of her, just get a little more useable power so it can be freeway driven. The little 6 banger had plenty torque but the rearend gearing made the poor little engine sing. Along with V8 power I want to upgrade to front disk brakes and change the suspension to 5 lug for better wheel and tire choices. This page will be my attempt at documenting the upgrades so follow along and remember to click the thumbnails for larger pics. Before I forget I'd like to give a shout out to my buddy Andrew Range for all the help during this project and many of the great folks who hang out on TFFN, The Ford Falcon News forum!
Well here she is as my brother Vic and I picked her up. Not running all that good, but we got her home. Scouring Craigslist scored me a 1977 Mercury Monarch, running like a top, for $500! It will be the donor car for the mods I want to do on the Chero.
The little 200ci inline six with chrome rocker cover (woo hoo!) The lovely brown naugahyde interior and custom flat silver painted instrument cluster (hmmm) First thing I did was put a new smaller Grant Classic steering wheel.
Here we go! Time to start the swap job. Due to a lack of garage space we had to do this half in the driveway and half in the street. We also had to do this very fast as the homeowners association wouldn't be very happy if they happened to see me doing this :) We didn't even have time to paint anything. We did pressure wash everything so it'll be relatively easy to pull it again later for painting.


Engine out, steering stuff next


Huge power cables!



Whole lotta old crap! Now we'll bolt up some of the newly rebuilt v8 steering parts


New 3 bolt idler! Lets get the Monarch 302 stripped


and lets stuff it into the Ranchero.


A little tight but not bad! I used '67 Mustang motor mounts, nice easy fit.

One tired Andrew! Buddy, we still have a front end and rear end to swap :) On to page 2!

Email me by clicking here or you can catch me on the greatest Falcon discussion group in the world, The Ford Falcon News by clicking here