Star Trek - The Next Generation
Hyperthin Neutral Zone, Mission scoop & Catapult protectors
Click on thumbnails for larger pics!
A fantastic Steve Ritchie design and a bellwether game that set a new standard for pinball theme execution, use of animated features and depth of rules. One of the best executed licenses in all of pinball!
These games saw a lot of action in the wild and took plenty of battle damage. The Neutral Zone and catapult launch took more than their share but we've got you covered!
NEUTRAL ZONE


My Hyperthin Neutral Zone protector covers damage & prevents wear! New design simply snaps in place from the top for easy installation (thanks Ed S!)
Ed S. show us how easy it is to install on his own game.

Click the toolbox for Ed's installation video!
That's all there is to it! Looks factory, protects and doesn't affect ball roll. DEFEND THE NEUTRAL ZONE!
START MISSION


The start mission scoop protector is a narrowed version of my universal single bank protector and easily snaps in place.
CATAPULT LAUNCH


The catapult protector surrounds the launcher with Hyperthin stainless steel. Thomas Whinberg helps us with installation pics below-

Area stripped, damage evident here

Protector in place. Note the precision laser cutting

Assemblies and rails installed, looking good!

Finished! Fully protected and a factory appearance. Thanks, Thomas!
ENHANCED FLIPPER GUIDES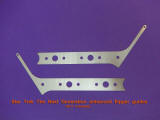 Restore game play with a set of Cliffy's™ enhanced flipper guides! (replaces A-17313-1 - A-17313-2)
ENHANCED RAMP FLAPS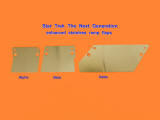 Add a set of shiny stainless slightly extended enhanced ramp flaps to polish off your STTNG restoration!
Only $30 for the Neutral Zone, $22 for the catapult, $12 for the Mission or $60 for the 3 piece set.
Only $20 to add a pair of enhanced flipper guides Keep your valuable investment protected and beautified!
Only $24 for the 3 piece set of enhanced stainless ramp flaps

Click HERE to email me for to order yours today! (will open your system default email program)
USPS 1st class and Priority Mail shipping options available.
California residents must add sales tax