PRESENTS...
Cliffy's® Premium COLOR Post Sleeves!
Modern materials science and Cliffy's® Labs brings you the newest innovation in pinball today! FULL
C

O

L

O

R

POST SLEEVES!

Pinball machines are all about attracting the eye. Everything else in a pinball is an explosion of COLOR…
WHY NOT THE POST SLEEVES!?
Custom color matched and engineered to the same play characteristics as common black rubber sleeves.

Super slick surface WON'T deteriorate like rubber! Wipes clean easily. No more pounded-in dirt!

COLOR goes all the way through and will not fade! Will easily outlast rubber post sleeves.

Play tested and found to have PERFECT rebound and durability as well as FANTASTIC appearance!

Mix and Match for complementary colors or contrast! Perfect 1" height matches all Williams, Bally, Stern & Gottlieb metal posts. No more broken plastics from compressing too tall rubber sleeves!

MAKE THAT PINBALL *POP*! GET SOME COLOR IN YOUR GAMES TODAY!
GRAY, RED, PURPLE, YELLOW, WHITE, GREEN, ORANGE, LT. BLUE, & DK. BLUE!
A veritable RAINBOW of color!

3 NEW COLORS TO ENHANCE YOUR GAME!
Martin Reynolds' Funhouse (8) and STTNG (14)











Peter's (Inkochnito) Corvette - 13 purples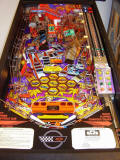 My Dr Dude (9) 2 yellow, 1 blue, 1 orange, 2 red, 3 green





My Capcom Pinball Magic, simply gorgeous - 10 total






Hawk's Black Knight 2000 in different colors




WANT TO SEE MORE EXAMPLES? CLICK HERE! Many thanks to all my helpers!

Click HERE to email me and order yours! First class shipping via USPS. If Priority Mail desired for $5 please mention when ordering.
California residents please add 8.5% sales tax.
Available direct or through finer pinball parts distributors like these!
Another *Original* Innovation From Cliffy's

® Lab! 100%