Funhouse pinball ramp & playfield protectors
(click on the thumbnails for bigger pics)
For me when you say "Funhouse" you've said "pinball!" A classic design that is as challenging and fun today as it was when released in 1990. A watershed game of this stature deserves the best protection. I designed and built my very first protectors on Funhouse in 1998 and I'm very proud that they have rescued countless games.
The 6 piece ramp protection kit with hardware
These are formed from stainless steel and will add years to the life of your Funhouse ramps! If you have NOS or repro ramps you need 'em! If you have old cracked ramps you need 'em!


The main center ramp set installed


The left steps ramp set installed


The diverter set installed - no more blown out ramps!
Installation guide here
The scoop protectors and shooter eject
Here are some pics from Rob Bell's game with my Hyperthin kickout and wind tunnel/mirror hole protectors installed. The appearance - factory. The protection - complete. The effect on ball roll, even at low speeds, imperceptible.






Installation guide here
Extras that go beyond protection!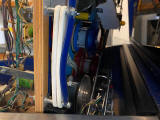 Uh oh. This is a common problem where the double rubbers pull the posts together over time and warps the plastics. Bart Boersma in Holland brought this to my attention and when I looked at my own Funhouse by golly he was right! The posts are drilled so close to the edge of the playfield that the wood has become compressed and splintering. Bigger washers won't help as they would rub the side of the cabinet and the playfield surface is getting compressed as well! My solution is a stainless steel brace across the top, like a spreader bar.
Cliffy's™ Funhouse post brace!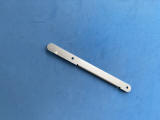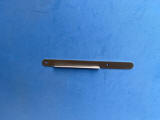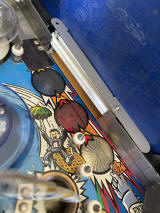 Laying the brace on top you see the posts are tilted inwards. I'll loosen the post nuts to allow pushing them apart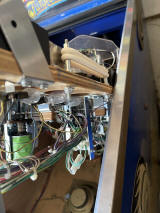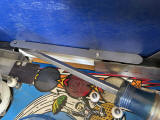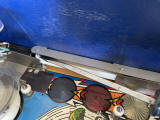 Now that the brace is in place install the nuts on top temporarily. This allows tightening the nuts underneath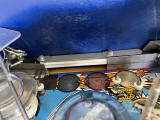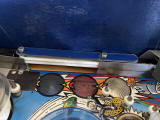 Now install the plastic and you are done! Never a warped plastic here again- never!
Cliffy's™ enhanced flipper return frames for a truly complete restoration and BETTER game play!


AKA flipper guides, my enhanced No-Hop™ replacements for the A-14078 and A-14079 frames play smoother than original!

The complete Funhouse ramp and playfield protector set!

Add a set of Cliffy's™ enhanced stainless flaps- great for covering the "dig lines" in the playfield from factory flaps. Trapdoor flap included!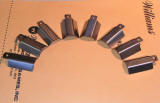 Trapdoor lampshade missing? Yes, I do still make them even though there are many fancy laser cut, plastic lettered shades out there.
I only make the shade itself. If the assembly is missing you can make it from the parts list HERE provided by Rick Swanson
Ready to dive in and make your Funhouse the best it can be? Everything you need listed below - Rudy will love you for it!
Funhouse 6 piece ramp kit including hardware $60
Funhouse 2 piece scoop protector set $40
Full set Funhouse ramp, scoop and shooter eject only $105!
Cliffy's™ Funhouse post brace $16
Cliffy's™ enhanced No-Hop™ Funhouse 2 piece flipper frame set $20
Funhouse 4pc enhanced stainless ramp and trapdoor flaps $30
Funhouse lampshade $10
Click HERE to email for order info! (will open your systems default email program)
Shipping cost not included in prices. Shipped first class via USPS or GlobalPost
California residents must add sales tax