WORK IN PROGRESS IN CLIFFY'S™ LAB
Items on this page may or may not be put into production and are only shown here to gauge interest, show progress and get feedback.
Please do not ask when items on this page will be ready to ship or pricing. DO feel free to tell me if you want to be placed on a wait list.
Click thumbnails for big pics!
Stern Mustang Pro scoop protector. done, tested, looks and works great. need to make page but ready to go now




Elvira and the Party Monsters flip up target 01-9275. NLA for years. 2 protos pictured, I'm just a hair off so second run should nail it



Twister! Spinning disk and scoop protectors. Done and testing well. Gotta make a page!



Dirty Harry 3pc scoop protectors!




Done and ready to go! Just need to make the webpage for 'em
Lost in Space 2pc scoops- 2 pieces covers 3 holes! Ready to go, just need a webpage...


Street Fighter II -2pc scoop set- done and ready to go!



Alvin G Mystery Castle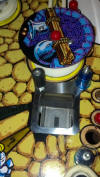 Very nice! Ready to go!
GTB Waterworld

Done and getting out there protecting!
WWF Royal Rumble - done and at your distribs now. If not, tell them to get 'em!



Pin*Bot eyes and solar value kickouts - some playfield run diffs causing probs

Not pictured but in progress;
High Speed ramp protector. Harder than you might think to figure this one out. Thanks to Brian Kast I do have templates
Banzai Run drop to lower ramp
Road Show ramp protector