WORK IN PROGRESS IN CLIFFY'S™ LAB
Items on this page may or may not be put into production and are shown here to gauge interest, show progress and get feedback.
Those that are marked as DONE are ready to go but are here because I haven't made their own page yet
As always please mail me at crinear@comcast.net or crinear@gmail.com to request ordering info
Click thumbnails for big pics!




Theatre of Magic trunk and basement- FINALLY! - DONE!!!



X-Files mag plate, carbon fiber FBI trapdoor and shooter eject - DONE. launch scoop in process (need stripped pf pics)
Stern WWE set - DONE

Stern Star Wars shooter lane set. (LE/Prem shown, Pro available) - DONE





Extremely proud to have created this, another first and a very significant protector.
Kickout protector for Sterns. Two depths so far, more to be discovered - DONE




Space Shuttle ramps and enhanced flipper guides - DONE
Swords of Fury ramp and flap set - DONE

Gottlieb Street Fighter II 4pc playfield set - DONE

Classic Stern Sea Witch orbit flap assembly - DONE



Party Zone VUK and Captain B'zar kickout - DONE


Phantom of the Opera complete mirror assembly and enhanced flipper guides - DONE. More coming soon (shooter eject done, not pictured)




Data East Playboy 35th Anniversary kickout and enhanced flipper guides - DONE



Gilligan's Island kickout and shooter eject - DONE

Gottlieb Genesis complete ramp kit - DONE

Firepower playfield set - DONE

Back to the Future ramp protector - DONE


Data East Batman joker ramp kickout - DONE


Avengers Hulk kickout in stainless or carbon fiber - DONE


Heighway Alien airlock scoop - also extended wear version available- DONE



Capcom Airborne ramp and kickout - DONE


Aerosmith LE/Prem and Pro sets - DONE




Stern Mustang Pro scoop protector DONE




Elvira and the Party Monsters flip up target 01-9275. NLA for years. 2 protos pictured. DONE


Twister! Spinning disk and scoop protectors. Done



Dirty Harry 3pc scoop protectors! Done

Lost in Space 2pc scoops- 2 pieces covers 3 holes! DONE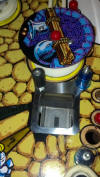 Alvin G Mystery Castle scoop - DONE

Gottlieb Waterworld Dive scoop - Done



WWF Royal Rumble scoops and shooter eject set- DONE


Pinbot kickouts, shooter eject, moving target bank - DONE
Not pictured but in progress;
High Speed ramp protector. Harder than you might think to figure this one out. Thanks to Brian Kast I do have templates
Banzai Run drop to lower ramp
Road Show ramp protector
xfiles launch scoop
POTO playfield scoops